Client: Santa
Location: North Pole
Client project: Santa's Christmas delivery service
thinkstep-anz service: Life Cycle Assessment (LCA)
Date: December 2021
Dear Santa,
Thanks for engaging thinkstep-anz to develop a Life Cycle Assessment (LCA) for your Christmas delivery service. (Don't we get to work with the coolest clients!)
We've looked at every stage of your annual gift-giving service:
Manufacturing your sleigh
Manufacturing and transporting the presents you give
The food children leave out for you.
We've taken a life cycle view – beginning to end. Here's the life cycle for your transport operations:
The data we've worked with
Functional unit: one year of Christmas giving
Reference flow: 5,922,072,000 presents
Distance travelled: 160,000,000 km
Executive summary
Your carbon footprint for a night out dropping off presents is 3.3+ megatonnes of CO2-eq. (That's 1% of Australia's annual carbon footprint or 10,000 aircraft flying Auckland-London return.)
Transport's not the main source of your environmental impact. (I know, we were surprised too. That's the benefit of LCA – it uncovers hidden environmental 'hot spots' in the things we consume.)
Our analysis gives your reindeer a reprieve! A ruminant-drawn sleigh has a lower carbon footprint than a sleigh run on electricity or diesel.
You need to tackle these emissions. (They're the environmental 'hot spots' in your life cycle.)

The presents you give
The paper you wrap them in
The snack children leave you out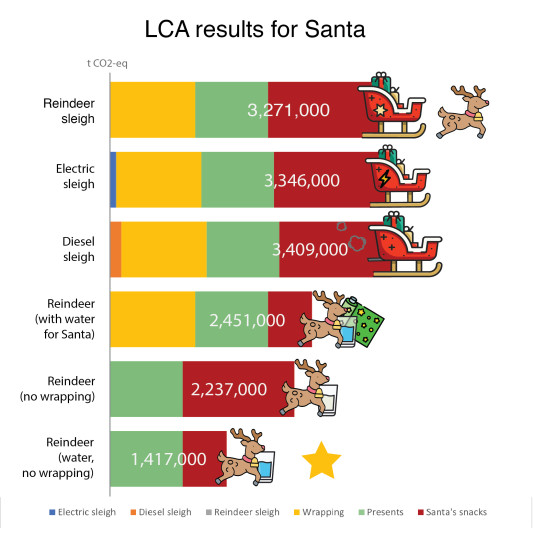 Our recommendations to reduce your carbon footprint
1. Hang onto your reindeer! It's good news for Dasher, Dancer, Prancer, Vixen, Comet, Cupid, Donner, Blitzen, and Rudolph. (And for us. We'd been dreading having a different conversation with you.)
Yes, your reindeer are ruminants and their four stomachs belch greenhouse gases. But, as our LCA shows, you don't need to put your furry friends out to pasture quite yet. A reindeer-drawn sleigh is better for the environment than your other transport options.
2. Change what you drink. Delivering presents is thirsty work. Keep up the fluids and keep down the emissions: ask the world's children to leave out a more emissions-friendly snack. Switch the glass of milk and biscuits for water and biscuits and you'll cut your carbon footprint by over 25%.
3. Give less and give lighter. You're a generous soul, and the most generous thing you can do is to give with the planet in mind. So, give less, give lighter, give recycled gifts, Cradle to Cradle CertifiedTM gifts, and gifts that last. A lighter payload means you'll use less fuel, cut your carbon, and speed up your journey back to the Pole.
4. Shop local and lighten your load. It's a big ask to expect your elves to shop for the world's children. And it must be hard choosing gifts for Australian and New Zealand nippers who are heading to the beach when the North Pole's a cold, dark place right now. So how about buying local? You'll chop your impacts and (bonus) keep local retailers happy in a tough Covid-19 year.
5. Ditch the wrap. A reusable Christmas stocking's enough to keep prying eyes away. Stop wrapping presents and you'll knock your carbon footprint back by a massive 31%.
Looking ahead: time to go electric?
1. Consider an e-sleigh. Things change. Keep that in mind as you manage your Christmas operations in the years ahead. As more countries harness green energy you may want to run these LCA numbers again and invest in an e-sleigh.
If you do go down the electric route, we suggest you …
2. Map your Christmas flightpath carefully. You've got a great source of green energy super-close to home: Iceland's electricity is 100% renewable and Norway is close behind.
Heading across South America? Pop into Costa Rica or Paraguay to refuel. Need a stop-off point in Africa? Ethiopia's doing well with its hydro power. Ending your travels Down Under? Top up for the return journey in Tasmania, South Australia, or Aotearoa New Zealand.
Happy Christmas, Santa. Meri Kirihimete. Thanks for caring about your impact on the environment, (particularly when you're so busy right now!) It's one of the greatest Christmas gifts you can give the world.
The team at thinkstep-anz
PS: another thing we learned in our research – reindeer can't eat carrots. Ask the kids to hold off on leaving them out and you'll save even more carbon.